Lymm Gardening Club
Trips
We have two trips arranged for this year.
A visit to Grappenhall Heys Garden on August 11th at 18.30pm
This trip is a self drive visit to Grappenhall Heys Garden, Witherwin Avenue, Grappenhall, South Warrington WA4 3DS.
The trip includes a tour of the garden with the garden manager Graham Richardson.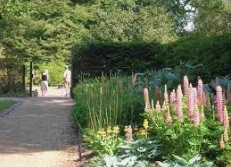 Refreshments will be served and please feel free to bring your own wine or soft drink. Tea and coffee will be available.
We will have the use of an all-weather gazebo and if the weather is wet, we can use the greenhouse conservatory.
To book this trip please contact Pauline McCulloch.
A visit to RHS Bridgewater on Thursday September 2nd at 13.30pm
As the club is affiliated to the RHS, this visit is free to all paid up members of the Gardening Club, up to 55 people. The booking is timed and we will enter as a group at 13.30pm.
We have requested a tour which, if confirmed, is £3 per head. Once in the garden you can stay as long as you like.
The Bridgewater Cafe, the Garden Cottage Cafe and the Garden Centre may have some covid restrictions. Only card payment will be accepted - no cash.
Although this is a self drive visit, we have a provisional booking for a 16 seater mini-bus which will leave Lymm Cross (time to be arranged) to arrive at Bridgewater for 13.30pm, departing at 17.00pm. The bus will not be able to offer pick ups.
The likely cost is £10 to £15 per head.

To book this event please contact Judy Dowling (members only please).
If you feel you could offer a lift or if you need one please let Judy Dowling know when you book.
---
Welcome |
Programme |
Trips |
Local Events |
News |
Contacts |
Links
---
<!space/filler>